CSF introduces another top-selling Dodge Ram radiator! Our 2014 Dodge Ram Radiator brings all the quality and durability you expect from CSF products.  The new CSF 3663 covers Dodge Ram 6.7L Ram 2500 and 3500 trucks for 2014-2013.   This heavy-duty radiator is a must-have to beat the summer heat!
Heavy-Duty 2014 Dodge Ram Radiator Release
Our 2014 Dodge Ram radiator joins our world-renowned line of work truck radiators, including the 2013 Dodge Ram Condenser, 2018 Dodge Durango radiator, and the rest of our Dodge heavy-duty cooling line. The Heavy-Duty product line includes Our 2015 Chevrolet Silverado HD radiator, alongside products for Ford.
Exclusive Radiator Technology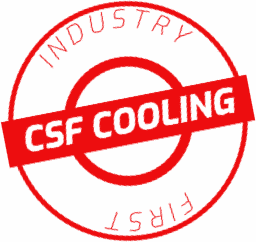 All radiators by CSF contain our patented B-tube technology. Whereas traditional radiators use an "O" shaped radiator tube, at CSF we use a specially engineered tube in the shape of the letter "B". Our B-tubes are formed and then brazed to seam the seal. This process allows us to use thinner and lighter aluminum material for better cooling. As a bonus, our tubes are stronger than the traditional style, which need welding! Ravi Dolwani of our race division adds:
The B-tube design increases the heat transfer surface area of the tubes by approximately fifteen percent over regular tubes. You get the efficiency of two smaller tubes, versus one large tube within the same space criteria. With B-tubes you can get dual liquid laminar flow.

Ravi Dolwani, Head of CSF Race Division
Extensive Cooling Options
Are you looking for more Dodge cooling solutions than just our 2014 Dodge Ram radiator? CSF offers radiators, condensers, intercoolers, transmission oil coolers, pressure caps, and hybrid inverter coolers for most popular makes and models. Browse our online catalog today. Don't forget to sign up for our newsletter below; it's the best way to stay on top of product releases, news, promotions, and events from your friends, the cooling experts at CSF.